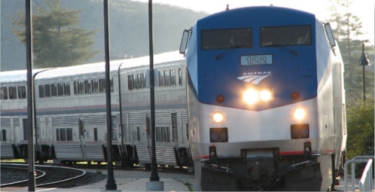 Medical Escort via Rail
is a money-saving option when time is not a prevailing concern, and the patient's condition requires him/her to be lying down. Patients are accompanied by members of our medical team and travel in a sleeper car of an Amtrak train. The medical team provides assistance with medications, hygiene and other personal care issues.
Less expensive than air ambulance or long distance ground transportation
Dependent on Amtrak schedules and seat availability - requires 7 to 10 days advance planning.
Patient travels in a relatively stress-free environment
Patient's Condition to Qualify for Rail Escort
Patient is not in critical condition
Travel time is not a primary consideration
A patient must:
Be categorized as BLS
Not require a ventilator or have a tracheostomy
Not require continuous oxygen therapy
Be able to sleep lying down or with the aid of one or two pillows
Be able to walk short distances (10 feet) independently with a cane or walker
Be able to withstand a two to four day trip
Ideal candidates for Medical Escort by Rail:
Behavioral health disorders
Neurological injuries
Orthopedic injuries
Minor ambulatory issues
Types of Medical Care Transports
All patients transported by Rail Escort are accompanied by two medical professionals.
| | |
| --- | --- |
| Patient's Condition | Medical Team Assigned |
| BLS | Two trained Registered Nurses or Critical Care Paramedics |
Travel Details
Patient is accompanied by a nurse or paramedic in a sleeper car
Patient travels in comfort, lying down
Receives ongoing medical assessment/assistance with medications, meals, hygiene, mobility, other care issues
U.S. Air Ambulance Services
Arrange ticketing
Pre-trip medical intake physical assessment of the patient
Arrange ground travel to and from the rail station
Direct assistance with airport check-in, security clearance and boarding on/off the train
Provide all medical care, administer medications, assist with meals, hygiene, mobility, and other care issues
Conduct post-trip medical assessment and provide verbal report to receiving facility