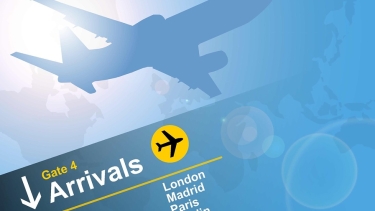 International Commercial Stretcher
is an option for those patients in need of transport to Europe, the Middle East, Asia and the Pacific Rim. The selected airline actually removes several rows of seats from the aircraft to accommodate the patient's stretcher and all necessary medical equipment.
A viable option for patients who are to be transported abroad
Available for international flights going East or West (travel between North and South America does not apply)
Requires detailed coordination with the airlines - allow 7 to 10 days to finalize arrangements.
Offers a cost savings of 40 to 50% over private air ambulance flights

The longer the distance, the more savings are realized
Patient's Condition to Qualify for International Commercial Stretcher
International commercial stretcher patients can be categorized as BLS or ALS
They can have a tracheostomy, but cannot be on a ventilator
Types of Medical Care Transports
All patients transported by International Commercial Stretcher are, because of the travel time involved, accompanied by at least two medical professionals.
| | |
| --- | --- |
| Patient's Condition | Medical Team Assigned |
| BLS | Two trained Registered Nurses or Critical Care Paramedics |
| ALS | Two or three Critical Care Personnel: Registered Nurses with ICU or Emergency Room Training and ACLS Education and/or Critical Care Paramedics |
Travel Details
Airline removes several rows of seats in the rear of the plane

Accommodates regulation medical stretcher and all necessary equipment
All arrangements handled by U.S. Air Ambulance
U.S. Air Ambulance Services
Pre-trip medical intake physical assessment of the patient
Communication between sending and receiving physicians and facilities
All medical care: administer medications, assist with meals, hygiene, mobility, and other care issues
Ticketing
Arrange all ground travel to and from the airport
Direct assistance with airport check-in, security clearance and boarding on/off the aircraft
Customs and Immigration
Conduct post-trip medical assessment and provide verbal report to receiving facility
Clearance through appropriate government agencies