Transport Options
Selecting an air ambulance company to transport your loved one can be a stressful and confusing endeavor. Which company should you choose? What method of air medical transport is best for the patient? What is a fair price for an air medical flight?
Here are just a few of the reasons why U.S. Air Ambulance is able to offer you the competent, caring service you are looking for:
Our Patient Transport Specialists arrange fast, cost-effective travel, based on individual need and circumstances.
Phones are personally answered 24/7.
We offer travel options for medically-assisted travel to meet the needs of the patient and the budgetary considerations of the family.
Planes are strategically located to respond quickly and efficiently.
Our medical team is highly skilled, aero-medically trained and multi-lingual under the expert direction of Roque Rodriguez, MD.
We are licensed and fully insured. Our insurance includes up to $20 million per aircraft, $1 million in AAA medical liability insurance, and $1 million in business insurance, the most in the industry.
Our safety record continues to be the highest in the domestic and international air ambulance industry - 97,000 patients, 100% safety.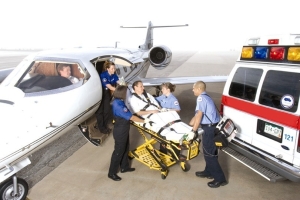 Your Medical Transport Options Include:
Our price guarantee assures that your family member or patient will receive competitive pricing on air and/or other medical transport choices to anywhere. Contact us today for more information.