International Commercial Stretcher
International Commercial Stretcher is a safe and effective method of international medical transport that is unique to U.S. Air Ambulance. If the patient qualifies for transport by commercial stretcher, this method can save the family tens of thousands of dollars. If a patient is in need of an international medical flight to or from Europe, the Middle East, Asia or the Pacific Rim, we can arrange a Commercial Stretcher trip that may well be a practical and cost-saving option for you.
Contact U.S. Air Ambulance's Patient Transport Specialists to determine if your patient is a good candidate for International Commercial Stretcher Escort. Call us at 800-633-5384.
Important Information Regarding This Type of Medical Flight:
U.S. Air Ambulance works with the selected commercial airline to remove several rows of seats from the aircraft to accommodate the patient's stretcher and all necessary medical equipment.
This type of medical flight requires detailed coordination with the airlines and therefore it takes approximately 7 to 10 days to finalize all arrangements.
This service is available on international flights going to and from the East and West. Unfortunately, commercial aircraft traveling between North and South America do not offer this type of service.
International Commercial Stretcher offers a potential cost savings of 40% to 50% over private air ambulance flights. The longer the distance of the flight, the more cost savings are realized.
Because of the travel time involved, all patients transported by International Commercial Stretcher are accompanied by at least two medical professionals, ensuring that the patient has constant medical attention for the duration of the flight.
Both BLS and ALS patients are eligible for these international medevac flights - they can have a tracheostomy, but cannot be on a ventilator.
We Handle All Details of Your International Commercial Stretcher Trip:
When you choose U.S. Air Ambulance, in addition to the medical care, all trip details are handled for you. Our services include:
Pre-trip medical intake physical assessment of the patient
Communication between sending and receiving physicians and facilities
All medical care: administer medications, assist with meals, hygiene, mobility, and other care issues
Ticketing
Arrangement of all ground travel to and from the airport
Direct assistance with airport check-in, security clearance and boarding on/off the aircraft
Customs and Immigration
Post-trip medical assessment and verbal report to receiving facility
Clearance through appropriate government agencies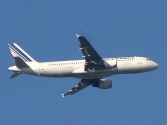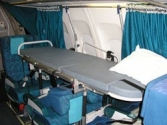 Other Medical Transport Options Include: