The Cost of Air Ambulance Travel
As a premier air ambulance company, it's our goal to provide the highest quality medical transport services at the lowest possible cost. Price is based a number of factors including:
The medical condition of the patient
The type of aircraft utilized
The urgency of travel
The distance of the flight
Advance planning and booking (to ensure the lowest possible price)
Our Patient Transport Specialists will discuss these factors with you and will provide air ambulance rates over the phone and will then follow-up with a confirming email. The medical flight price quoted to you is the final cost - there are no hidden charges.
We offer the following payment options for any of our medical transport services:
All major credit cards
Wire transfers
Cashiers' checks
insurance company letters of guarantee
The cost of the transport can be covered by using multiple credit cards - just tell us the amount to be charged to each one. We authorize cards prior to the trip and charge them after the trip has been successfully completed.
Additionally, we may be able to assist with the paperwork involved in requesting insurance guarantees and/or reimbursements.
Please call 800-633-5384 for more information. Our Patient Transport Specialists are available to assist you 24 hours a day, 52 weeks a year.
Or you can Request a Quote. Just complete the easy-to-use form included on this site.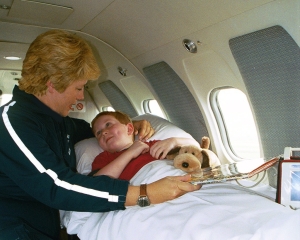 Learn about: